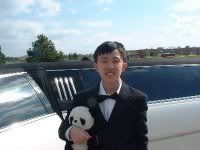 Stardf29: "The State of Mass Confusion: Adventures in the Fifty Second and a 1/2 State of the United States of America" and "Wandering Blade"
Your Nweb and NaNoWriMo usernames, were they inspired by anything?
stardf29 (used for both websites) stands for Star Defender 29. 29 is for my birthday, March 29. The Star Defenders are my own fictional group of space-exploring folks who defend the universe from various intergalactic threats. (Lately, they've been traveling to alternate universes, too!) They've been around in my imagination since I was a kid, although they have first come to life in a significant way when I introduced some of them to NarniaWeb's Ditto Story in 2005.
And get this: NaNoWriMo 2012 is currently planned to be a full-fledged Star Defender story!
Who are you?
I am Frank, 23 years old and currently serving in the United States Navy. I am of Chinese origin and my hobbies include writing, listening to and playing music, and playing video games. I also enjoy hanging out with friends from church.
How were you sucked into NaNoWriMo? Did someone person brainwash you into joining?
Did they? My first time in 2007 was a while ago, and I can't help but think some brainwashing was involved. I shall have to ask my therapist.
...wait, what do you mean I don't have a therapist anymore?
Was this your first, second, tenth time participating?
Third, with past rounds in 2007 and 2010.
What was your novel synopsis (or original idea) at the beginning of nano? Genre?
I actually worked concurrently on two novels. The first, "The State of Mass Confusion", involved four people who would end up in the eponymous state (located somewhere in the US) and underwent whatever crazy things I felt like making them go through. The second, "Wandering Blade", was a fantasy story where beings called Blades, who can transform into swords, form pacts with humans, who then can use them in life and combat, and followed the adventures of three Blade-users in particular, as well as one particular Blade without an owner.
Was your synopsis the same or different at the end? Or did you end up writing something completely different?
Well, with the State, there is no such thing as "something completely different"; the whole thing was intended to be rather random. And "Blade" did not get a whole lot written (just three chapters), but it is currently along the lines I had planned for it.
Did you finish? What superpowers enabled you to write 50k in one month?
I did write the 50K words between the two stories. The best superpower in the world is "write whatever your mind feels like writing, erase not a word and who cares how bad it is or how little sense it makes!" Having a good typing speed helps, too.
What method of writing proved to be the most effective?
The aforementioned "write whatever your mind feels like writing, erase not a word and who cares how bad it is or how little sense it makes!" method always wins.
Did this method involve glue, ropes, caffeine or some other forceful inducement?
I attempted caffeine, but really, it doesn't work too well on me, for some reason. Maybe my body has immunized itself against it after using it so much the last couple of NaNos. Maybe it is time to invest in some glue...
What lesson(s) did NaNoWriMo teach you this past November?
If you can do it once and you've done it twice... it's still going to take some work doing it a third time.
Website, blog, twitter, etc you want readers to know about?
No personal websites, but do check out
narniaweb.com
! I still hang out there from time to time.