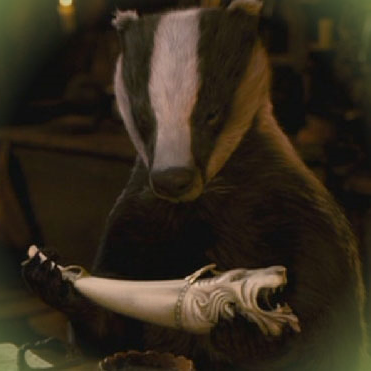 Narnian_Badger: 31 Days





Your Nweb and NaNoWriMo usernames, were they inspired by anything?
Nweb: Narnian_Badger
The Badger is my favorite Narnian creature, and my personality is somewhat similar to the characteristics of a badger (in Narnia they represented intelligence, kindness, and faithfulness; in Heraldry they symbolized tenacity and protection).
NaNo: vaporinthewind
This is a username I already had (I used it for my DeviantART account, except that one had hyphens ). It comes from the song Voice of Truth, by Casting Crowns.
Who are you?
Mm... female, and a Badger. Though most people don't believe that last bit... Can't imagine why.
Anyway. What do I like? Many things. Swimming, running, sketching, painting, strategy games (chess!), Sci-Fi, mystery, writing. Who am I? Well, depends on who you ask. On DeviantART, I'm a hobbyist who enjoys traditional art. On GateWorld, I'm a perpetual lurker who tends to shut down debates when they get too out of hand. On FanFiction, I'm "that random anonymous user that's been around for like five years". I'm an INTJ Mastermind/Inspector for psychology students.
But what I always try to be, no matter where I go, is a servant of my Lord Jesus Christ, who made me all that I am.
How were you sucked into NaNoWriMo? Did someone person brainwash you into joining?
Personally, I blame Rose [Tree-Dryad] for the entire thing. I'd known about it for at least three years, and was vaguely considering doing it in 2011, but it was her (incessant-non-stop-ever-present) pestering that made me finally sign-up.
What was your novel synopsis (or original idea) at the beginning of nano? Genre?
Genre: Sci-Fi
In the beginning of the year 2164, absolutely nothing out of the ordinary had happened. People went to work, had kids, and hung out with friends; the world still had the rich, the poor, the middle class; politicians drove everyone up the wall... In fact, the only major difference in the world was the MRs—the Mind-Readers.
Everyone got along rather well for the most part, and on the whole it was a fairly easy transaction (except for the sixty year war, but that's beside the point). But everything changed when folks started forgetting that MRs even existed—
Including the MRs themselves.
Was your synopsis the same or different at the end? Or did you end up writing something completely different?
It was exactly the same. It's an idea I've been mulling over for a year or two, and I'd created an outline to keep me from straying too far. Although, I'm thinking about moving it up to the year 2461 and making the war last 120 years, as though that doesn't change the plot per se, it makes it a bit more believable.
Did you finish? What superpowers enabled you to write 50k in one month?
Well... I suppose doing 750words daily, since February of this year, helped a lot. It was like basic training. So, that, combined with sheer stubbornness (there's no power like will-power), helped me finish. I never doubted that I'd finish it... it was merely a question of how happy I'd be with the finished product.
What method of writing proved to be the most effective?
Word Wars for the win! ...Literally, in my case. I think about halfway through November my name became inescapably linked with them, to the point where upon entering NarniaWeb's chat the first reaction was, "Oh, good, Badger's here! Time for a war!" ...Yeah, I pestered a lot of folks into warring with me. I didn't write any faster, per se, but I did write with a better focus. Which, really, was what I was looking for.
Did this method involve glue, ropes, caffeine or some other forceful inducement?
CAFFEINE! ...I mean, ah, ahem. There may have been... some... coffee involved. And chocolate. Not saying how much. *shifty-eyes*
What lesson(s) did NaNoWriMo teach you this past November?
Make sure that whatever hard surface you're near is stable, because you will wind up smacking your head against it eventually.