Welcome, welcome, one and all to the start of that crazy time known as April. Why is it crazy? Firstly, the
A to Z challenge
commences upon this date and runs through the end of the month. Secondly, the first session of
Camp NaNoWriMo
has been moved to April this year. And I'm doing both. At the same time. Yes, yes. I know I'm insane. (But I'm not the only one attempting this craziness!)
To celebrate me losing my mind, I would like to present....drum roll please...my first ever giveaway! I know this is highly belated but the time has finally come for you, my readers, to test your luck in a giveaway. Below you will find the widget by which to enter. And there are methods by which to enter daily so check back each day to improve your chances! You've got until the 14th to enter as many times as you can.
And what is the prize? Why, a copy of the fabulous YA Fantasy "The Eye of the Sword" by Karyn Henley! Some of you might remember my featuring "The Eye of the Sword" all the way back in August of last year for the
CSFF blog tour
that month. Need a review?
Click here to read my review of the book
!

Where angels walk the ground and the future is told in song, does a man of low rank have a chance at love with a princess?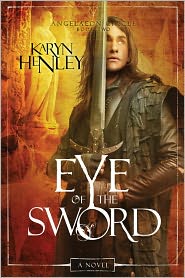 In Camrithia, a land of shadows and mystical secrets, Trevin lives to serve King Laetham. But his heart belongs to the princess, Melaia. When the King sends Trevin on on a dangerous quest to find the missing comains—captains in the king's army—he must leave Melaia to the advances of a swaggering Dregmoorian prince.
Challenged to prove his worth, Trevin throws himself into his quest. Striving to prove his love, Trevin undertakes a second mission—find the harps Melaia seeks in order to restore the stairway to heaven. Through fire caves, rogue winds, and murderous threats, Trevin remains steadfastly dedicated to his quest—even when he is falsely accused of a heinous crime. As Trevin's time runs out, he realizes he must face the shame and horror of his own past and the nightmare that has come to life. Will he have the courage to finish what he has started?
a Rafflecopter giveaway
NB: I'll only be shipping to the continental US cause I've very little to spend on shipping costs. See the terms and conditions for full details.