In order to prepare for this tour I read not only "The Spirit Well" by Stephen Lawhead but also its two prequels - "The Skin Map" and "The Bone House". Perhaps if this series proceeded in a strictly linear fashion I would have been able to untangle the third book from its prequels, but that proved impossible. As such, consider this three part review to cover the whole Bright Empires Series with a special emphasis on "The Spirit Well" when I can manage it.
For today's topic I thought I would focus on the world building or mythology Lawhead has created for this series.
(I shall post a spoiler warning here. Nothing sufficient to give away major plot points is written, but there are details from all three books so if you haven't read the first two, expect to be spoiled. You have been warned.)
On the surface it poses as a copy of the real world with the addition of alternate timelines, dimensions and time or "astral" travel. However, once examined closer one can see the intricate weaving of fact and fiction which Lawhead has presented us with. "Home World" as it is called is the part of the world which is a carbon copy of our own. It is supposed to be the original timeline and dimension from which all the others derive and also represents the boundary between time that can be traveled and "the absolute future" to which no one can travel. However this world is crisscrossed with ley lines which connect the dimensions. Kit's great-grandfather, Cosimos, explains it as the connecting points and lines formed by stacked soap bubbles.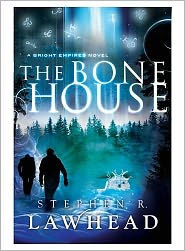 This ley line idea comes from old Celtic beliefs. However, Lawhead has woven it into his world seamlessly and also into multiple cultures' mythology. In "The Spirit Well", Cassandra is introduced to the ley lines by a Native American who calls them "Ghost Roads" to the Spirit World. That it is almost impossible to distinguish where the ley lines of Lawheads's creation, Celtic myth, and the myths of Native Americans' each begin and end is a testament to Lawhead's skill as a writer.
He doesn't just restrict himself to borrowing ley lines and old myths. In book two, "The Bone House", Kit travels by accident to prehistoric times and meets cave men straight out of Evolutionary theory. Or perhaps not. Lawhead again has changed them to suit his world. He has given them back the humanity and intelligence that Evolution stripped from them and he even has introduced a key plot point through Kit's interaction with them.
In one of the flashbacks in "The Spirit Well" Lawhead takes Arthur and his son Benedict back to Ancient Egypt. Arthur is an Englishman born into the Christian tradition, however he studied with and became friends with a priest of the Egyptian god Amun. This particular flashback has Anen complaining about how the Pharaoh refuses to listen to the priests and is now promoting the worship of one new god. If you know your history, you'll recognize this new "god" as the one worshiped by the Jews and therefore Christians. However, Arthur keeps the fact that he believes in this God quiet, saying that his policy is to not impose his beliefs on the cultures he is visiting.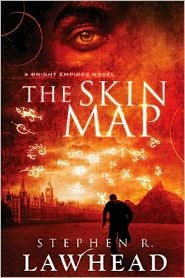 I think this approach can be applied to Lawhead's direction for "Bright Empires". He doesn't discard bits from other beliefs, mythologies or even "science", but chooses to embrace them and mold them to fit his world. However, though he takes this approach, one can tell the Christian undertones. I have full faith that the good guys will win and find some way to beat the bad guys, though I was quite disappointed to find that "Bright Empires" has two more books in the pipeline instead of being a trilogy. I wanted to read the end already!
But, I have reached the end of the available books and you the end of this post, unlike me, all you have to do is wait until tomorrow for part two of my review. I'll try to explain why "Bright Empires" is told in such a fragmented timeline and it works. (Versus the last book I reviewed.) So, tune in tomorrow! And while you're waiting, check out more below:
To buy the book,
click here
.
Or you can visit Stephen Lawhead's
website
or
facebook page
.
And don't forget to
visit the other participants in the blog tour here
!
Until then!